Draria
Ingen informasjon om landet
A divided city where life is tough for many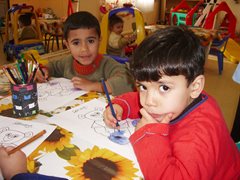 Algiers is the capital of Algeria and is located on the Mediterranean coast. Estimates of its population range from 3.5 to five million. The city has the highest cost of living in all of Africa. It is home to the country's stock exchange and is the economic, commercial and financial heart of Algeria. Because most of the country is covered by the Sahara desert, the majority of the population live here along the northern coast.

Algiers remains a city of great contrasts. While the wealth of some of its inhabitants is highly visible, for example in the areas known to locals as the "Heights of Algiers", the living conditions of a large proportion of the city's residents remain very difficult. Many areas of the city are still underdeveloped: housing is sub-standard and overcrowded, and basic infrastructure is not sufficiently available. This has led to uprisings and clashes with police in the past, especially when dissatisfied young people expressed their frustration at feeling marginalised and socially excluded.
Children need a safe and nurturing environment
Thousands of children, too, are deprived of the safe and nurturing childhood they deserve. The difficult socioeconomic conditions of many families can lead parents to send their children out into the streets to beg or sell merchandise. This in turn leads to children missing out on education, thus jeopardising their chances later in life. In rural areas, children are often found working in agriculture, which puts them at a serious health risk.

Its proximity to Europe makes Algeria a transit country for thousands of illegal immigrants who live in conditions of poverty and desperation in other African countries, and so try to make their way north in search of a better life. In addition to those who migrate voluntarily (albeit illegally), there are those who have been trafficked, often for purposes of sexual exploitation and forced labour. There are also many cases of young girls working as domestic servants in Algiers, many of whom were trafficked and therefore have no support network whatsoever and no means of escaping their situation.
What we do in Draria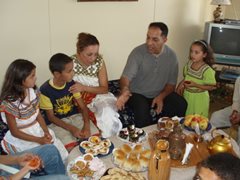 SOS Children's Villages initially began its work in Draria, just south of Algiers, in 1981. In recent years, we have expanded our family strengthening programmes in the region so as to reach as many struggling families as possible. The aim is to alleviate hardship and maintain family stability so that children will be safe and protected and grow up in a loving home.

We now run SOS Social Centres in Draria, Corso, Naciria, Tipaza, and Tizi Ouzou, reaching over 1,500 people. The centres ensure that children have access to essential health and nutritional services, as well as education. We assist parents by providing guidance on income-generating skills and parenting practices, as well as counselling and psychological support where needed. In cooperation with local organisations, we also work towards strengthening support systems for vulnerable families within the community.

For children from the region who are no longer able to live with their parents, 13 SOS families can provide a loving home for up to 142 children. In each family, the children live with their brothers and sisters, affectionately cared for by their SOS mother.

The children attend the SOS Kindergarten in Draria together with children from the neighbourhood, which ensures that they are integrated into the local community from a young age. The children then go on to attend local schools together.

Once young people reach an age where they are ready to move out of their SOS family home in order to pursue further education or vocational training, the SOS Youth Programme continues to support them throughout the transition into adulthood. We provide shared flats, one for boys and one for girls, where the young adults live together. With the guidance of an SOS educator who lives with them, they learn to take responsibility and prepare for independent life.