Pskov
Ingen informasjon om landet
An increasing number of children losing parental care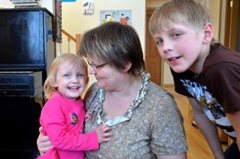 The city of Pskov is located in north-western Russia, around 160 kilometres from St Petersburg and about 20 kilometres from the border with Estonia.
Our organisation is based in Zaveliche, an area of the town of Pskov which is near essential services - schools, kindergartens, a clinic and shopping facilities are within walking distance. For example, some of the children from the SOS families benefit from speech therapy, which they can attend nearby.
The people in this part of the country face a low life-expectancy rate and about 67 per cent of men die from cardiovascular illnesses. Information collected during the last census in 2010 showed that the region had lost a significant percentage (around 11 per cent) of its population since 2002. People are moving away in search of work either in one of the big Russian cities or abroad.
The area traditionally lived off agriculture and its associated food production industries and forestry, but these industries have been in decline in the recent past. More recently attempts have been made to encourage western investment, and to encourage tourists to visit the region.
A deteriorating situation prompts SOS to provide more direct support to children
In the past years, the situation of the people of Pskov has worsened due to the deteriorating socio-economic situation, and there are an increasing number of children without parental care. As our organisation has been active in the area since 2008, helping to meet the needs of the local population, local authorities were supportive when we decided to expand our work to provide SOS families for children who could no longer live with their birth families.
What we do in Pskov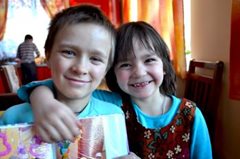 Strengthen families:
SOS Children's Villages has been active in Pskov since 2008 by offering family strengthening, counselling and psychological support to the local families and children. We aim to provide children with access to essential services in order to promote their development (e.g. clothing, nutritional and health support) and enhance their social skills.
Care in families:
When children lose parental care they can move into an SOS family where they are cared for by SOS parents.
We also have SOS foster families who are living in the village – these families take part in all aspects of life in the village. SOS Children's Villages provides support to these families, and co-funds them along with the Russian state. The children attend the nearby kindergartens and schools, and take part in local activities.
Support for young people
: We support young people until they are able to live independently. We give them access to further education and vocational training so that they have the right skills to find a job, or start their own business. We also partner with local business so that young people can gain practical work experience.